Brown, Yellow, Green, it's a rainbow of phlegm and mucus & Hot Pocket Abstinence
Mar. 23rd, 2007
d00dz, I'm sick. No fun, no fun. I think it's strep throat or something. My nose and lungs are expelling crazy colored stuff too.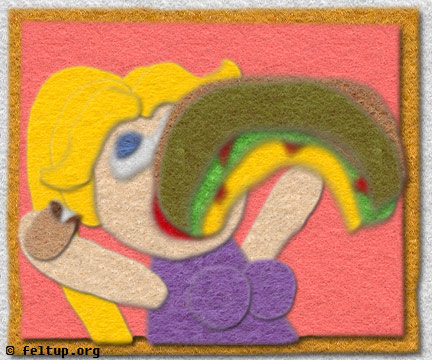 But also, I have exciting news about something else. Free Hot Pockets.
See, I went to the store yesterday to buy cold medicine and used one of those self-check out aisles, which I really love because the less human interaction the better when I'm out in public... and uhhh.. the person who used it before me, didn't take the coupons that the magic coupon printer printed out for them, and one of the coupons was for free Hot Pockets. Yep, that's right, a free coupon for free Hot Pockets. I immediately went back to the store and got myself some "Philly Cheese steak" Hot Pockets.
Now this is pretty crazy, because just the other day I was having a conversation with some one about how I live such a sheltered life that I've never had Hot Pockets, but today that has all changed, because I ate a hot pocket, and I needed to make this post about it as a note to myself of the day I lost my Hot Pocket virginity. I think however, I may stay abstinent from Hot Pockets.
© 2021 feltup.org